Active ingredients & tips against grey hair
What does an active ingredient have to do to stop the formation of grey hair?
To counteract grey hair, the formation of hydrogen peroxide must be prevented and the ageing process in the dermal papillary cell must be counteracted.
The colour pigment-forming cells (melanocytes) must be reactivated.
The hair papilla must be supplied with everything needed for the formation and function of the important enzymes.
Tripple effect against grey hair
The anti-grey scalp lotion Dérmosthétique Anti-Age Elixir-Anti-Grey uses an active ingredient complex of a biomimetic peptide, a plant extract of the candle bush and an aqueous extract of the malachite healing stone. Together, these active ingredients counteract grey hair.
Scientifically documented results
The biomimetic peptide contained in Elixir Anti-Grey is a patented active ingredient: with a daily application (approx. 3ml/day) over a period of 3 months, a clinical active ingredient study proves a reduced amount of grey hair.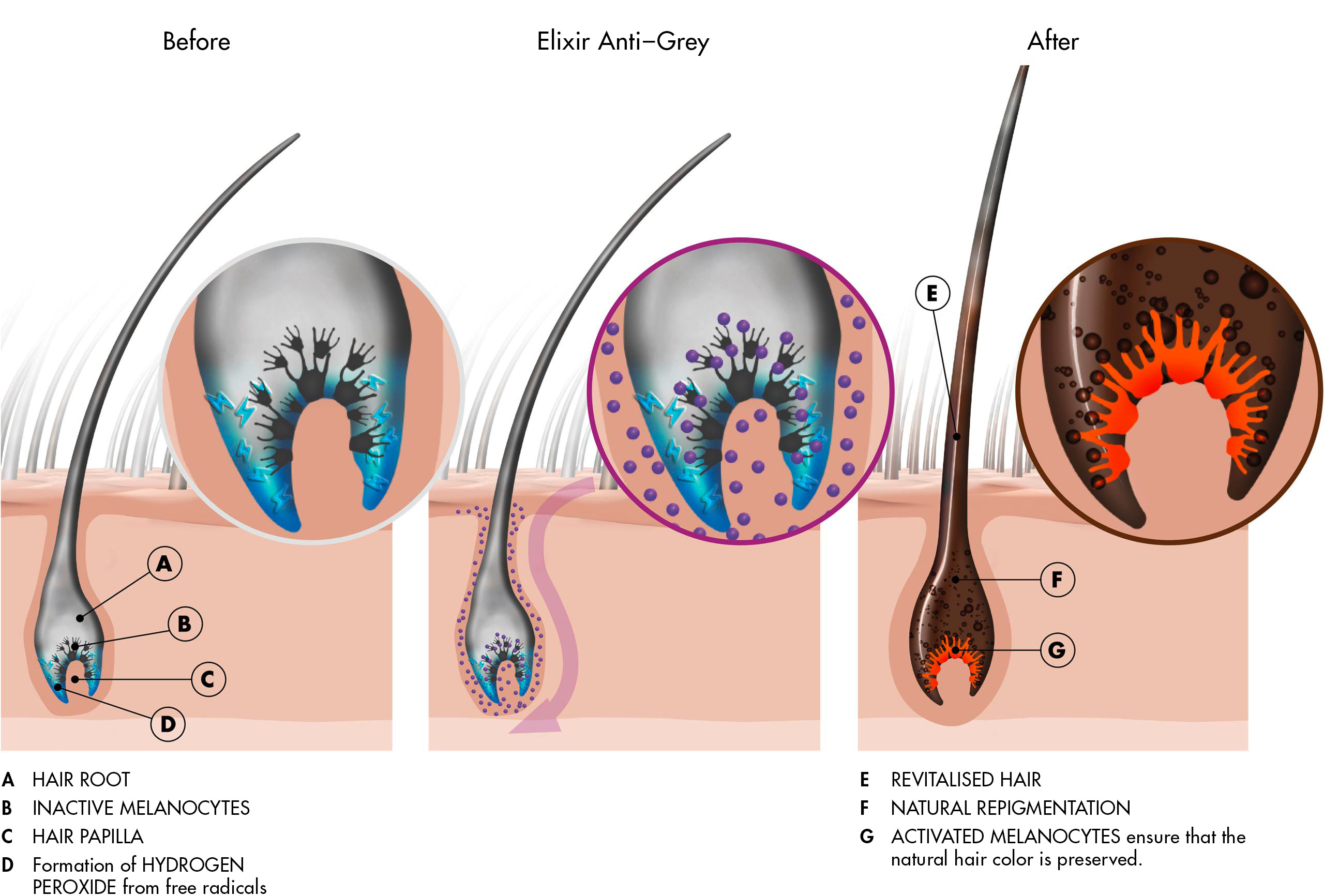 Tips for combating grey hair
The root cause of grey hair is predominately a result of our genes. Though with that said, there have been recent theories and discoveries that may attribute to developing grey hair.
The discovery that hydrogen peroxide is more prevalent in grey hair was made in 2009 [1], with the first large-scale grey hair genetic studies having only been been published in recent years [2]. In addition to these genetic factors, our behaviour and lifestyle can of course also effect the development of grey hair. Factoring in all of this information, we have compiled several helpful tips against grey hair while eliminating any associated prejudices that may come with it.